This is my second today, but I am ADDICTED to reading. I'd fall into a coma if I didn't read anything . . .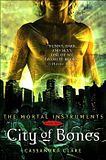 Title:
City of Bones
Author: Cassandra Clare
Genre: YA Fantasy
Page Count: 485
Rating: 4 out of 5
Cover Rating: 4.5 out of 5. I love the shining Marks and the image of NY below it!
The good: I really did expect to hate this book, since I thought the second (
City of Ashes
) was not terrific and I didn't get a whole lot of it. I guess I should start reading things in order, though, since I find that
City of Ashes
is a lot more comprehensive and understandable than it was not that I've read its prequel.
City of Bones
has adventure, (which I love!) action, (which is necessary!) violence, (which is fine, as long as it's not terribly gruesome) betrayal, (which is excellent) romance, (which gets worse in
City of Ashes
, unfortunately) and a fairly good plot (which is a HUGE plus).
I thought the idea of Downworlders is fascinating and the Shadowhunters themselves are demon-butt-kicking experts and Jace is more complex than he seems with his wisecracks. Jace is funny; he's supposed to be a cocky, self-assured Shadowhunter, but once Clary comes along that changes. (It's him on the front cover, I believe.)
Clary herself (who is the main character) is a little too girly for my tastes, and while I think she could have learned to use a knife a little better and perhaps gotten over her looks, I think that she's fairly strong and can hold her own well enough when it's really required.
The bad: Again, vampires and werewolves are a little overused in my opinion, but I think Clare fit them in an okay fashion in
City of Bones
;
City of Ashes
gets a little carried away, but this book balances the stereotypes and common images in a way that doesn't bore me to death.
Do I recommend this book? Sure. Go head and read it, since the action is fast-paced and there
are
werewolves running around. :)
Back flap:
When Clary Fray heads out to the Pandemonium Club in New York City, she haardly expects to witness a murder. Much less a murder committed by three teenagers covered with odd markings. This is Clary's first meeting with the Shadowhunters, warriors dedicated to ridding the earth of demons--and keeping the werewolves and vampires in like. It's also her first meeting with gorgeous, golden-haired Jace. Within twenty-four hours, Clary is pulled into Jace's world with a vengeance, when her mother disappears and Clary herslef is attacked by a demon. But why woud demons be interested in an ordinary mundane like Clary? And how did she suddenly get the Sight? The Shadowhunters would like to know . . .
*****
Have you guys seen the
Google Homepage
yet? I scored 3330 points after trying it once, (and I have a feeling that's bad) but the whole PAC-MAN thing is funny. You should try it out. :)
It's warm here. *pant* Really, it's like in the uppere 70s and they were predicting mid-80; maybe it's up there right now, but I do know that running in this warmth makes me
sweat
. And have I ever mentioned how much sweating irritates me? Sticky, germy ooze spreading all over me. I don't
really, really
mind it, but it's just annoying. And stopping when I'm sweating and feeling it trickle? Yuck. Yet another reason I wouldn't want to live farther South.
-----The Golden Eagle