The Novel Films Blogfest continues today! This time it is: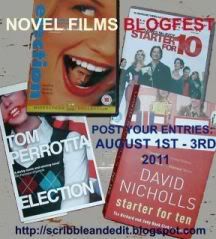 Tell us which books you have read that you want to see the film versions for or which films you've seen that you plan to read the books on which they are based.
(I didn't post yesterday for the blogfest--my apologies. I had gotten the dates on which to post terribly mixed up.)
So, here's my list:
The Princess Bride
I really enjoyed the book; rather funny.
The Hitchhiker's Guide to the Galaxy
Ah yes, the good old trilogy . . . that somehow managed to have six books.
The Help
I wouldn't say The Help is one of my favorites, but it was interesting--I'd like to see how they did the movie.
The Invention of Hugo Cabret
If it turns out they took apart the book and turned it into something awful, I'll send them a personal letter of dislike. I love that book. :) The trailer doesn't look so bad, though. (It isn't out yet.)
The Tale of Despereaux
At first when I heard there was a movie, I didn't really think about it much. But now I'd like to see just what they did to one of my favorite MG novels.
Mr. Popper's Penguins
Jim Carrey as Mr. Popper? Hmph. I can see it (based on his performance as Count Olaf in A Series of Unfortunate Events) but just from the trailer it looks like they changed the whole plot . . .
Stardust
I adored the book Stardust, by Neil Gaiman. It was a great story.
2010
I hadn't known there was a movie made of this until I read other blogfest posts.
Les Miserables
I watched the musical once, but they did make a movie of this one, didn't they?
Harry Potter and the Deathly Hallows Part 2
Geez, I feel like the only person in the blogosphere who hasn't seen it yet. LOL.
As for books I want to read that I've seen the movies of . . . er, I can't think of any. Really. I almost always read the book first, and if I watch the movie, I try to read the book as soon as possible. I'll probably come across some visiting people, though, which I will add to the list.
So, which movies would you like to see, and/or which books do you want to read?
-----The Golden Eagle