Particle physics is a branch of physics that studies the elementary particles of matter and radiation. An elementary, also called fundamental, particle is something that has no substructure--it is not made up of smaller particles. Particle physics is also referred to as high energy physics, because fundamental particles can only be created in particle accelerators.
The classification of all those particles comes together in the Standard Model. The Standard Model has only twelve basic particles, which are governed by four forces.
The twelve matter particles are quarks and leptons. Each of these two groups has "generations"--the first generation being lighter and more stable, while the second and third are heavier and less stable. All the stable matter in the universe belongs to the first generation, because the particles that make up the second and third decay to a more stable level.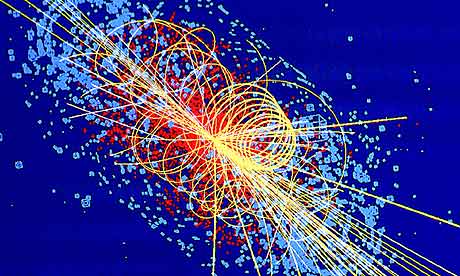 There are up quarks, down quarks, charm quarks, strange quarks, top quarks, and bottom quarks, to cover the first six out of the twelve. Then there are electrons, electron-neutrinos, muons, muon-neutrinos, taus, and tau-neutrinos.
Three of the four fundamental forces--the strong force, the weak force, the electromagnetic force, and the gravitational force--result because of the exchange of "force carrier particles", called bosons. Fundamental particles exchange these bosons and, therefore, discrete amounts of energy. The strong force is carried by the gluon, the weak force by the W and Z bosons, the electromagnetic force by the photon, and the graviton for the gravitational force has not been found yet.
And last but not least, there's the Higgs Boson, which is thought to be the reason other particles have mass. The boson is predicted to exist because of the Standard Model, which incorporates it to solve problems with current theoretical physics. Experiments are being done to prove its existence with the
Large Hadron Collider
at CERN and
Tevatron
at Fermilab (although the latter will cease operations in September), but it has yet to be observed.
*****
A very cool video on the Standard Model (the scientists probably explain things way better than I do):
Sources:
http://public.web.cern.ch/public/en/science/StandardModel-en.html
http://en.wikipedia.org/wiki/Standard_model
http://particleadventure.org/index.html
http://en.wikipedia.org/wiki/Elementary_particle
http://en.wikipedia.org/wiki/Particle_physics
http://en.wikipedia.org/wiki/Higgs_boson
http://en.wikipedia.org/wiki/Tevatron
http://www.universetoday.com/26829/fermilab-putting-the-squeeze-on-higgs-boson/
*****
What do you think of particle physics? Do you think the Higgs boson will be found soon? Do you think the Standard Model, despite the fact it omits gravity from the calculations, will continue to be the way scientists describe fundamental particles?
-----The Golden Eagle