Astrophysics is:
"The branch of
astronomy
that deals with the
physics
of the
universe
, including the physical properties (
luminosity
,
density
,
temperature
, and
chemical
composition) of
celestial objects
such as
galaxies
,
stars
,
planets
,
exoplanets
, and the
interstellar medium
, as well as their interactions."
Image via Wikipedia

Fascinating stuff, astrophysics.
Especially once you start thinking about just how many discoveries that could still be made about the universe. We know practically nothing about dark matter and dark energy (aside from the fact it exists); there are countless stars that could have exoplanets (and, therefore, the potential for alien life); black holes (which could be at the center of every galaxy in our universe); star-forming regions such as nebulae (which are sometimes also the leftover matter from exploding stars); and the galaxies themselves, which collide and interact (as the Milky Way will with Andromeda, some billions of years from now).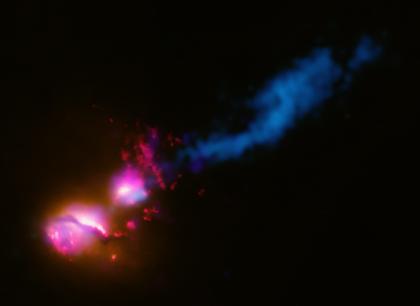 And who knows, maybe in the future people will be exploring the universe beyond this solar system, traveling to other stars, exploring satellites and creating a new frontier in space. There's no telling what could happen if Earth becomes one of two, or several, or many other planets that could sustain human life and we have the technology to take us there.
Ahem.
Can you tell I read and write and love Science Fiction?
And if you want some videos to watch to learn more about astrophysics:
Monster of the Milky Way NOVA Program
Hunting the Edge of Space NOVA two-part series
Origins of the Solar System NOVA Program
Sources:
http://en.wikipedia.org/wiki/Astrophysics
What do you think of astrophysics? Do you think any major discoveries about the universe will be made in the near future?
-----The Golden Eagle