***My Insecure Writer's Support Group post is below this one, in case you're looking for it.***
The Rule of Three Blogfest, or REN3, has arrived! It's hosted by
Stuart Nager of Tale Spinning
,
Damyanti
Biswas of Daily (W)rite
,
Lisa Vooght of Flash Fiction
, and
J.C. Martin of Fighter Writer
.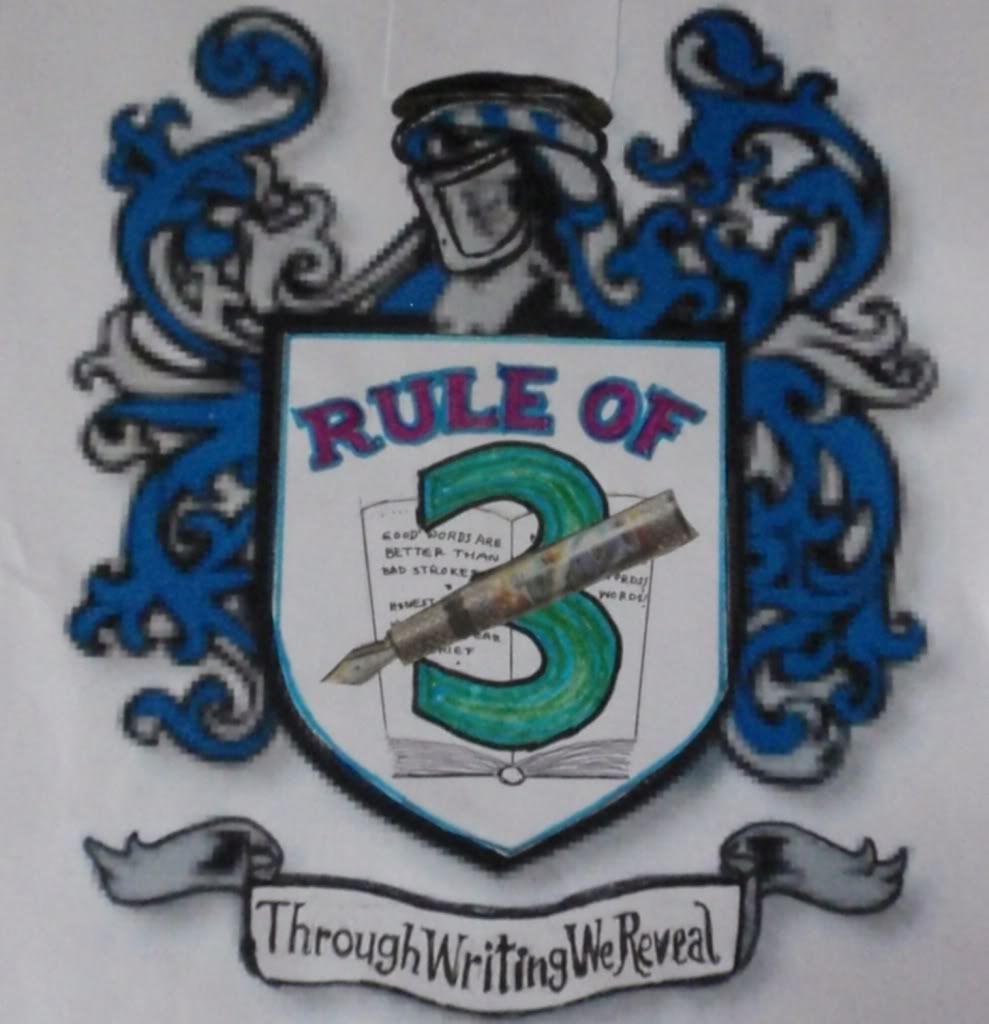 This is all just about the blogfest, so if you know it already, you won't miss anything by skipping down to my entry below.
Information:
A. What is the Rule of Three?
The "rule of three" is a principle in writing that suggests that things that come in threes are inherently funnier, more satisfying, or more effective than other numbers of things. The reader/audience of this form of text is also more likely to consume information if it is written in groups of threes. A series of three is often used to create a progression in which the tension is created, then built up, built up even more, and finally released. –Wikipedia


B. How does the Rule of Three work in this blogfest?
The Rule of Three is a month-long fiction blogfest, where we've created a 'world', the town of Renaissance, and challenged you to create a story within it. The story will feature 3 characters of your creation, who will be showcased on your blog on 3 different Wednesdays or Thursdays, following the Rule of Three. The 4th Wednesday/Thursday posting you'll have the culminating scene.


C. What is the Shared World of Rule of Three? Welcome to Renaissance
Renaissance is an outpost town in the middle of nowhere, but many routes pass through or beside it. The desert is encroaching on one side (to the West), a once-lush forest lies to the East and South. A large river runs through the forest, but it is not close to the town. Mountains are to the North, far, far away, and when you look towards them you don't know if they are an illusion or real. Closer by are the smaller hill chains that fed the mining, creating caverns and passages underground.
The town has had a number of identities throughout its history: A trading post; a mining town; a ghost town until it was rediscovered; a thriving community; the scene of a number of great battles; the scene of one great tragedy (that led to its Ghost Town standing); a town of great joys and celebrations, and so much more.
At this point in time, there is a general population of 333. A mixture of a community. It boasts families that have lived there for generations upon generations, but they are in the minority, and are not in positions of power. There are traders who have come back here, at the end of their many travails, to settle in. The new families and power-players have taken this as a last refuge for themselves, hoping to rebuild lives torn apart on the way here.
Everyone has a secret. Welcome to Renaissance. Enjoy your stay.
This entry's prompts:
There is an argument (check)
There is fear of an impending misfortune (check)
There is a humorous circumstance
Someone might fall in love (that remains to be seen. ;)
**********
And now, to my entry! I actually had a bit of trouble with it; I started a couple of drafts, discarded them, and finally came up with this in the morning. So much for writing before the deadline . . .
I ran along the trail, quiver banging against my shoulder blades in a rhythmic—and rather painful—thump, thump, thump.
I gripped the hilt of my sword, also conveniently knocking against my hipbone, and scowled.
Why in all Renaissance did Marcor have to tell my father I wasn't actually scouting the Villein route all those afternoon hours? I never told on Marcor when he went off scouting for the prettiest girls by the water well, when he was supposed to be standing guard by the town gates.
"I'll get him," I muttered to myself, dodging a branch that extended over the trail.
A horse whinnied in the distance, and I stumbled to a halt, scanning the forest.
Movement. Over there, in the trees to the left.
I dived into the sparse underbrush by the side of the trail and laid low, glad I was wearing green and brown and not those idiotic red-and-gold tunics my father often demanded I put on.
"Is anyone there?" a voice called.
No. There is certainly not anyone there and I suggest you get out of here. Hell's about to break loose and all that.
"Hello?"
Goodbye. Why aren't you going away yet?
"I could've sworn I heard someone," I heard the girl mutter—it was definitely a girl from her voice.
Her horse snorted.
"What is it, Broman?"
The horse didn't reply. Good horse.
"Come on, Broman."
I heard the sound of a horse heading down the trail. I relaxed.
Inching upwards, I peered over the top of the bushes.
The girl stood on the trail, an arrow nocked in my direction.
We stared at each other, and then I had my own arrow out and aimed at her. I walked out onto the trail and faced her, less than thirty paces apart.
"You're fast," she said, indicating my bow and arrow.
"You're sneaky," I replied.
"What?" She looked confused.
"Never mind. Who are you?"
She shifted her bow. "And why should I tell you that?"
"Because I have an arrow pointed at you."
"So do I."
"That's irrelevant."
"It is not!"
"Yes, it is."
She shook her head. "Just tell me where I can find the town of Renaissance, and I'll put down my bow."
"Really. Well, since you had to force me upon pain of death to get me to say, the town's further down this trail."
She nodded. "Thank you." A pause. "Why were you running from it?"
"You heard me? Why didn't you say 'come out, come out, wherever you are', then?"
"Because that would be stupid. Broman," she called, and her horse emerged from the trees.
"A fine animal," I said, looking Broman over.
"You say that like you don't mean it."
I shrugged. "Horses can't compare to riding the imbrangilae."
"Imbrangilae?"
"You've never heard of them?"
"They can't be rode."
"Yes, they can. I've done it." And my father thinks I'm a fat, stinking liar because I told him so.
"Do you know who the leader of this town is?"
"There's no leader. There's just a council of old fogies."
She snorted. Then, as if in some kind of accord, we put down our bows.
"I need to speak with these fogies."
"Why do you need to speak with them?" I didn't add my father was one of them.
"Because there's an army coming."
I stared at her.
"An army?"
"Yes. Down the Villein."
I cursed. An army was coming down the Villein—just the road I had avoided on scouting missions for the past three months.
(589 words)
**********
What do you think?
-----The Golden Eagle